2015 Resuscitation Guidelines: CPR Matters
The 2015 international resuscitation guidelines maintain the performance of high quality CPR, and more prevalent data has surfaced to show that high-quality CPR improves survival from cardiac arrest. High-quality CPR is described by the following:

With the recommendations of upper and lower limits in compression depth, it may be challenging for the lay rescuer to judge their compression depth without the use of feedback devices. Thus audio-visual feedback devices are recommended for use during CPR for real-time optimisation of CPR performance.
In the market today, there are two types of CPR feedback technology: accelerometer based feedback and impedance based feedback. ZOLL utilises an accelerometer based feedback. An accelerometer, embedded in the electrodes, is used to measure chest compression displacement (distance) instantaneously in real-time. Accelerometers are the gold standard for real-time CPR feedback technology, as it is time tested and can be found anywhere from space rockets to cars, laptops and smartphones. Accelerometer based feedback accurately measures compression rate and depth, as per what the guidelines call for.
Contrary to accelerometer based feedback, impedance based feedback monitors very slight changes in electrical impedance detected in the electrodes. It does not measure depth directly. Rather, it measures force and speed. The most important finding found that impedance based feedback is an accurate indicator of compression rate, but is an inaccurate measure of compression depth to help rescuers reliably.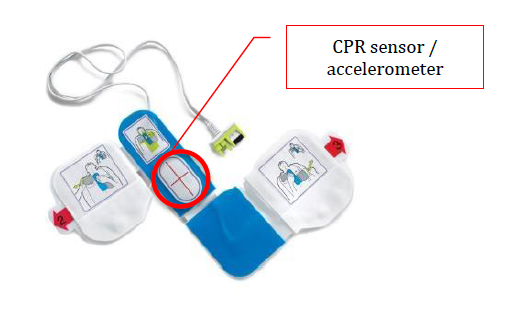 Clinical Validity on Real CPR Help®
ZOLL was the first commercial AED/defibrillator manufacturer to introduce real-time CPR feedback (Real CPR Help®) to the market. The technology utilizes a pioneering CPR sensor that tracks the up and down movements of the chest during compressions. An external, impartial study evaluated the success of 13 to 14 year olds in the use of ZOLL's AED Plus® with minimal training, with positive outcomes.2
Designed with simplicity in mind, the CPR sensor is embedded into ZOLL's electrode pads. The CPR sensor incorporates an accelerometer that measures accurate and precise displacement of the chest as it moves up and down. Its prominent mid-sternum location serves as a convenient landmark for hand placement. Accelerometers are a time tested technology, used in all modern-day applications from cars and rockets to smartphones.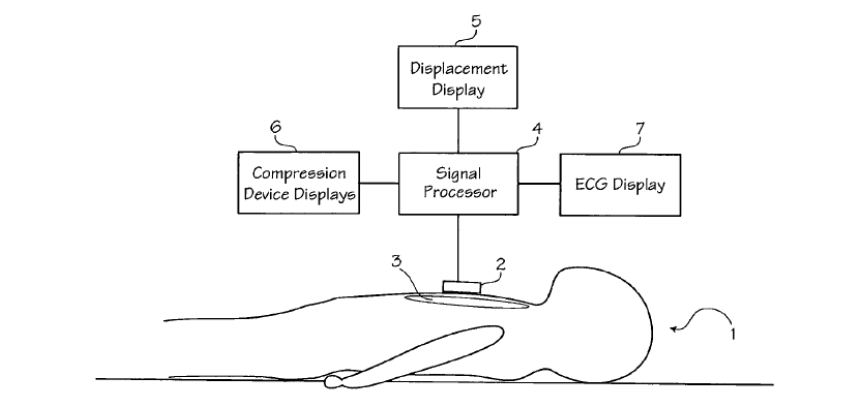 Real CPR Help uses rate, depth, and duty cycle to guide rescuers towards delivering compressions that meet recognized guidelines (in accordance with international guidelines (ILCOR, AHA, ERC) of compression depth: 5cm to 6cm, compression rate: 100-120cpm, minimizing chest compressions < 10 seconds). Further, it integrates these into a unique visual indicator that lets rescuers instantly see the quality of their effort.
Depth is measured by filtering and converting the acceleration signal obtained from the CPR signal into displacement (i.e. up and down) and reported in inches or millimeters. A whitepaper on how the displacement in Real CPR Help is measured and how its algorithm is validated details more.
Bobrow et al. (an external, impartial published study) demonstrated how ZOLL's Real CPR Help resulted in significant improvements in the quality of CPR performed and survival with favorable functional outcomes after out-of-hospital cardiac arrest almost tripled (2.7x).4
ZOLL achieves a delicate balance between providing feedback prompts to rescuers, while minimizing distraction during the rescue. As such, verbal and graphic cues guide compression depth, while a metronome guides compression rate. Bohn et al. states that feedback mechanisms need to find a balance between guidance and distraction.5
Accelerometer and Impedance Based CPR Feedback: What's the Difference?
Impedance based CPR feedback technology monitors very slight changes in electrical impedance detected in the electrodes, and measures the force and speed of chest compressions. This monitoring is claimed to allow an AED to infer the rate and depth of compressions in real-time, and claims equivalency to accelerometer-based feedback.
This claim has yet to be proven clinically, with studies only conducted internally and on single porcine models. Impedance based feedback does not measure depth directly, as force measurement does not equate depth. The most important investigation of impedance based technology, published in a peer-reviewed journal article, found that monitoring impedance can detect the change in direction of chest compressions and can therefore monitor compression rate accurately.
But estimates for compression depth by monitoring impedance are not accurate enough to help rescuers reliably; the data collected proved that impedance based feedback cannot measure compression depths, especially shallow depths, resulting in the inability to meet the guidelines which call for adequate depth and rate.6
Additionally, impedance varies during resuscitation so there is no baseline value to measure compression quality from, whilst relying on accurately placed electrodes to acquire precise patient impedance.6
Please refer to Alonso et al.
It has been clinically published that compression depth is a predictor of short term survival and results in better outcomes, thus more focus should be placed on high quality chest compression. Bohn et al. (external, impartial study) has proven that use of Real CPR Help in his study resulted in better outcomes and states that not every feedback technology will lead to improved compression quality and should thus be carefully studied.5
What's the Difference between CPR Feedback and CPR Coaching?
CPR feedback aims to improve the quality of CPR performed during a rescue, and authentic CPR feedback devices has the ability to provide information about what the rescuers are actually doing (compression rate, depth, CPR cycles, pauses in CPR) in real-time, so that they can make real-time adjustments in their CPR performance to achieve the high quality CPR that is now called for by the 2015 guidelines.
On the other hand, CPR coaching devices do not provide information about the rescuer's CPR performance; there is no feedback on compression depth or rate to measure if rescuers are performing good compressions that meet the guidelines. Rather it may measure patient impedance to determine if CPR has begun or not at all, provide a fixed metronome that does not detect pauses in CPR, or merely just provide video and voice coaching on how to perform compressions.
ZOLL's Real CPR Help is driven by CPR feedback technology, and because it actually 'sees' rescuers' chest compressions and does not merely 'tell' rescuers how to do chest compressions, Real CPR Help is truly the only proprietary CPR feedback technology ahead of its time.
Comprehensive Post Event Debriefing
Because it is an authentic, time tested CPR feedback device, ZOLL's AEDs can provide in-depth post-clinical data that includes comprehensive and dynamic data on CPR quality. These data can be archived online and offline, in ZOLL's clinical reporting and analysis software, available at no charge to customers. These reports are dynamic in fulfilling the needs of clinical reviewers.
Real CPR Help: The Gold Standard
Effective chest compressions remain a crucial link – this translates into meeting adequate compression rate and depth as recommended by the international guidelines (ILCOR, AHA, ERC). Real CPR Help represents a breakthrough and gold standard in CPR feedback technology. It is designed to aid rescuers to meet the recommended guidelines and optimize the victim's chance for survival.
When it comes to assisting rescuers in providing the best CPR possible, no one is more experienced or can offer as much as ZOLL. ZOLL's mission on improving survival outcomes drives our quality assurance to customers; this is reflected in the fact that ZOLL's technologies save lives every single day across the world.
The Relevance of FDA Approval
The U.S. Food and Drug Administration (FDA) applies the most stringent requirements of any regulatory agency in the world, when clearing medical devices for sale based on both their safety and efficacy. Human clinical trials are required to ensure the utmost safety and efficacy of medical technologies.
The FDA has never cleared an AED for sale in the U.S. that uses impedance monitoring technology for helping rescuers with both rate and depth of compressions, though they have cleared an AED that uses it only for rate of compressions. The AED Plus, in comparison, has been cleared by the USFDA for sale.
Regardless of what a manufacturer-funded paper may claim (especially one not published in a peer reviewed journal), the best research and the regulatory actions of the FDA indicate that Real CPR Help, using accelerometer technology, is superior to impedance monitoring technology when helping rescuers perform CPR.
Please refer to Appendix A: AED Plus FDA Clearance Letter.
Proven Increase in Survival Outcomes
In a study conducted by the Emergency Medical Services (EMS) in Mesa, Arizona, under the guidance of Dr. Ben Bobrow, it was proven that when Real CPR Help® was used, a sudden cardiac arrest victim was 2.7 times more likely to survive, because rescuers performed more and better CPR.4 Real CPR Help has acquired FDA approval, a mark of the highest quality in standards for safe and effective medical devices of public health importance.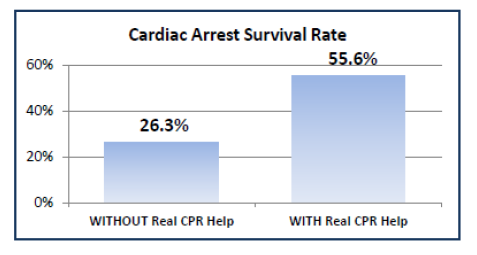 Real CPR Help® in a Nutshell
The ZOLL AED Plus® is the only AED that allows rescuers to see and hear how well they are performing the rate and depth of chest compressions during CPR in real-time. This real-time feedback, known as Real CPR Help®, makes the ZOLL's AED portfolio the only AEDs that can help assess and treat nearly every SCA victim, making it the only full-rescue AED available today.
ZOLL's enhanced Real CPR Help® technology is fully compliant with international resuscitation guidelines, American Heart Association (AHA) and European Resuscitation Council (ERC) Guidelines (2015), as well as the National Resuscitation Council (NRC) guidelines for deeper CPR chest compressions to help responders provide high-quality CPR. ZOLL's AEDs guides rescuers through the complete Chain of Survival, helping all sudden cardiac arrest victims, not just those who need a shock.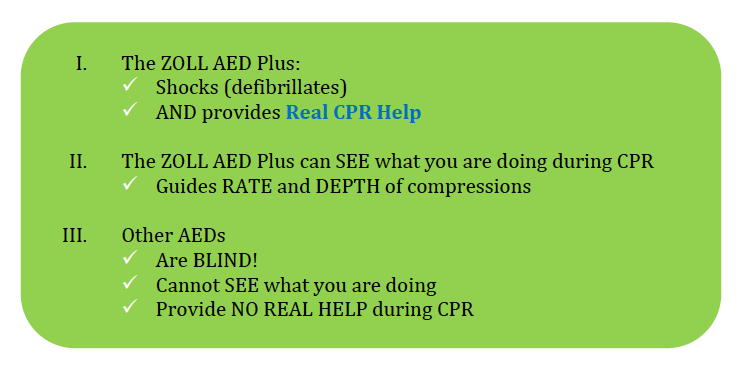 The AED Plus® guides rescuers towards performing high quality CPR by prompting (audio, text, graphical) the following: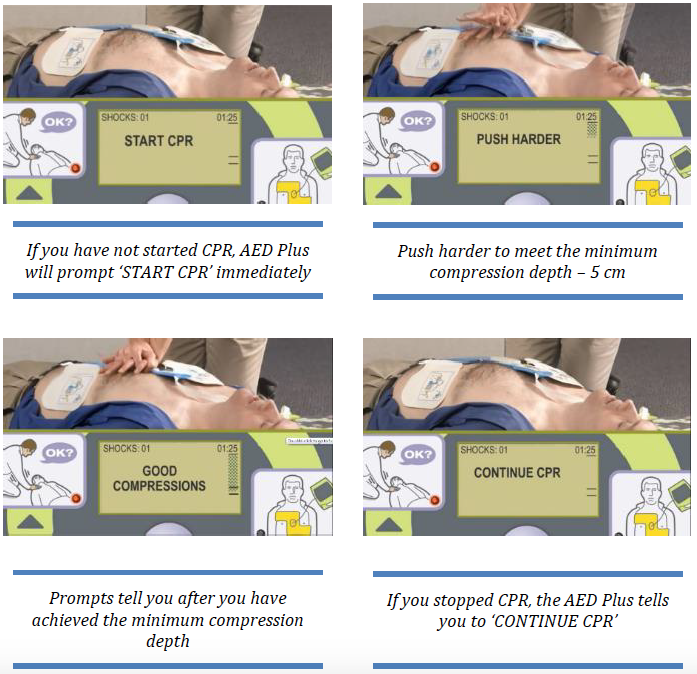 Don't Compromise When it Comes to Pediatric Defibrillation: Rely on ZOLL
Children are not little adults – children differ as to the types and characteristics of shockable and non-shockable heart rhythms, and thus it is important to correctly identify their specific heart rhythms. ZOLL has developed a dedicated pediatric AED analysis algorithm that accurately differentiates even the most difficult heart rhythms.
ZOLL's AEDs detects the use of either pediatric or adult electrode pads, automatically diagnoses the treatment required, and delivers a more optimized defibrillation energy level to effectively and safely treat a child, compared to other defibrillation waveforms. The ZOLL AEDs use the proprietary ZOLL algorithm that does not simply reduce energy.
Please refer to Appendix B-Because Children Are Not Just Little Adults for more information.
Superior Defibrillation Waveform
ZOLL is the only company the FDA has cleared to label its defibrillation (rectilinear biphasic) waveform as superior to other standard high-energy (monophasic) defibrillation waveforms. ZOLL's waveform has been studied in more than 7,000 patients in over 14 separate clinical trials and there were no unsafe outcomes or adverse events from the use of it. 7,8
References
1. 2015 American Heart Association Guidelines for Cardiopulmonary Resuscitation and Emergency Cardiovascular Care Science. Circulation.
2. Kelley, James, et al. "Eighth grade students become proficient at CPR and use of an AED following a condensed training programme." Resuscitation 71.2 (2006): 229-236.
3. Malanga, B. & Geheb, F.J. A Primer to Real CPR Help Technology (2007).
4. Bobrow, Bentley J., et al. "The influence of scenario-based training and real-time audiovisual feedback on out-of-hospital cardiopulmonary resuscitation quality and survival from out-of-hospital cardiac arrest." Annals of emergency medicine 62.1 (2013): 47-56.
5. Bohn, Andreas, et al. "The addition of voice prompts to audiovisual feedback and debriefing does not modify CPR quality or outcomes in out of hospital cardiac arrest–a prospective, randomized trial." Resuscitation 82.3 (2011): 257-262.
6. Alonso, Erik, et al. "Can thoracic impedance monitor the depth of chest compressions during out-of-hospital cardiopulmonary resuscitation?." Resuscitation 85.5 (2014): 637-643.
7. Mittal, S, Ayati S et al. Comparison of a rectilinear biphasic waveform with a damped sine wave monophasic waveform for transthoracic conversion of ventricular fibrillation. JACC, Vol 34, No 5, 1999.
8. Mittal S, Ayati S et al. Transthoracic Cardioversion of Atrial Fibrillation Comparison of Rectilinear Biphasic Versus Damped Sine Wave Monophasic Shocks. Circulation. 2000;101:1282-1287.
Leave a reply