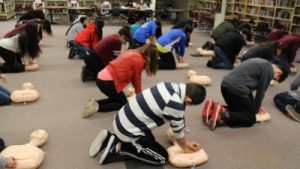 On June 30, 2016 the Samboy Lim bill has turned into 'Basic Life Support Training in Schools Act' (Republic Act No. 10871) and is now a new law in The Philippines. This law requires all public and private schools in Philippines to give basic education to their students to provide basic life support training through the use of psychomotor training in an age-appropriate manner. It will teach students to give CPR (Cardio Pulmonary Resuscitation) and basic life support in situations where someone suffers Sudden Cardiac Arrest. CPR trainings are not new in this world. It has been practiced in Norway since 1960 and in 27 out of the 50 states in the USA have ordered the practice of CPR skills in high schools. Canada and UK also have similar proposals. Our neighboring countries Malaysia, Singapore and Japan have already begun CPR training in schools and communities. Together with these CPR training programs, AEDs has also become mandatory in public places and not only in schools, but also malls, sports clubs, corporations and generally everywhere where people gather.
The Republic Act No. 10871 can be found here.
AEDs are a big part of the success of survival of SCA victims and is suggested also to private and public school nationwide.
The ZOLL AED Plus has Pedi-Padz II for kids in the age of 0-8 years old or up to 25 kilos/55 lbs. After that the regular CPR-D Padz can be used with the portable defibrillator.
Whether you are a school, company or governmental organization, inquire with us for the best Automated External Defibrillator in the market.
ZOLL AED Plus is the only defibrillator in the market that has patented 'REAL CPR HELP' technology that shows the lay rescuer, with a CPR Chest Compression Graph Monitor, in real-time how fast and deep the compression given should be.
This technology absolutely benefits the chances of survival during a rescue.
Leave a reply