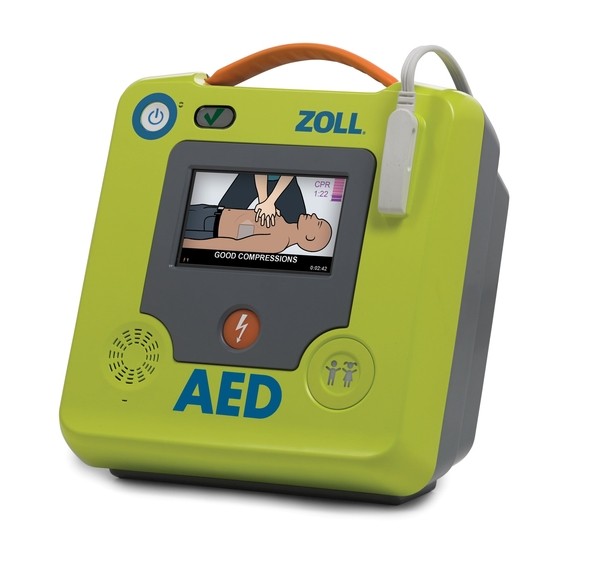 The Zoll AED 3
The latest device from ZOLL. The ZOLL AED 3 has been programmed in accordance with the latest CPR guidelines. The rescuer is helped through the CPR process by means of resuscitation feedback. This is done not only by means of the CPR Uni-Padz, but also by the instructions on the color screen.
The Zoll AED 3, the new innovative device from Zoll.
The AED 3 requires little to no maintenance due to the groundbreaking PlusTrac program that transfers data from the AED directly to a cloud via a Wi-Fi connection. Any malfunction or defect is immediately communicated to you. This means you are always up-to-date with the state of the AED and you can immediately solve a possible problem. You are always assured of a functioning device!
Just like its sister AED, the Zoll AED Plus, the AED 3 is very user-friendly and easy to use. The lay rescuer is supported by the universal CPR Uni-padz during resuscitation. During the delivery of the chest compressions, the helper is alerted to the depth and speed. Furthermore, the rescuer is assisted by the resuscitation process by means of the instructions on the color screen.
In addition, you can switch to child mode with just one push of a button; no special children's electrodes are therefore required for performing CPR.
The AED 3 is more robust and compact than its predecessor and comes with a factory warranty of 8 (6 + 2) years.
Comes with:
Zoll AED 3
Zoll AED 3 battery
Zoll CPR Uni padz
English Instruction Manual
Warranty
8 years LOCAL warranty in the Philippines.
Function Indicators on the ZOLL AED 3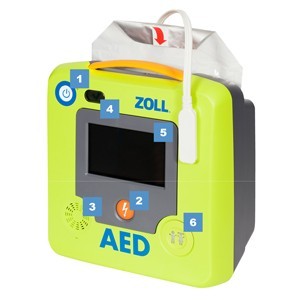 On/Off switch button

Shock button

Speaker

Status indicator

Connection point electrodes

Child modus
Instruction video on the use of ZOLL AED 3
Specifications:
Article number

8501-001201-16

Warranty period

8 years

Weight

Average

Dimensions (cm)

12.7×23.6×24.7

Quality marks

FDA & CE

Options

Standard Adult resuscitation and easy option for Child resuscitation,

Language selection (eg English), Multilingualism (eg GERMAN + ENGLISH), ECG display

CPR Coaching

Audio (default), Metronome, Feedback, Text on display, Video on display

Additional properties

Custom child protocol, Read out by user, Low asystole threshold, Pacemaker detection, Synchronization shock, Update / upgrade possible

Weight

2.5 kg

Full or semi-automatic

Semi-automatic with ECG Monitor option to program for healthcare professionals

Includes bag

No

Dust and water resistance

High

IP Value

IP55

Battery life

5 years

Lifetime electrodes

5 years

Metronome

Yes

Display

Multi-color

Manufacturer

ZOLL
 Contact us to get more information by e-mail about the ZOLL AED 3.
Leave a reply